Three Card Poker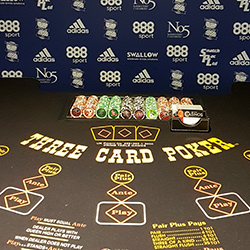 Firstly, as the most popular specialty table game of all time, our Three Card Poker brand's fast pace and exhilarating play remains unmatched.
Featuring three ways to play and four ways to win. Three Card Poker lets players bet against the dealer. Bet on the value of their own cards, or bet on both. To play against the dealer, players make an ante wager. After looking at their cards, they may fold or place an equal play wager to stay in the game.
If a player's hand beats the dealer's qualifying hand of a queen-high or better, he or she will win both wagers. If the dealer doesn't qualify, players win the ante wager and their play wager pushes.
To play their hand value only, the player may bet the pair plus wager. Wins if the hand contains a pair or better. To play both the ante and the Pair Plus, players must make a play wager if they have placed the ante, or they forfeit the ante.
With premium hands of a straight or higher, players win an ante bonus payout even if the dealer doesn't qualify. Even if they lose to the dealer.
In conclusion a fun game for the evenings entertainment.
Check out our theme night packages here
More GB Fun Casinos Games