Wheel Of Fortune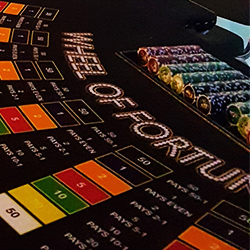 Heres how the Wheel of Fortune works:
Players may place their bets until the dealer announces "No more bets". The dealer then spins the wheel of fortune. The result for a game is the number on which the pointer rests when the wheel comes to a stop. A bet wins if it corresponds to this number. Numbers are also coloured to make it even more easier to play this is by far the easiest casino game to play!
This is one of our most interactive games. As it is a simple game of chance, many guests cant resist the chance to place the odd bet and have some fun.
With GB Fun Casinos we don't play for real money making the game all about the anticipation of winning or loosing.
Loved by many and without the need of complicated rules. More about the fun.
Like our game of dice, purely a game of chance. Players bet on the outcome of the rolling of two dice. Whilst one player throws the dice all other players around the table bet on the outcome making it possible for upto 12 players to play at the same time. The player must handle the dice with one hand only when throwing and the dice must hit the walls on the opposite end of the table.
You can check out our other game types here.
Check out some of our online images of our tables in action here. Take a closer look at some of our available theme nights here.
More GB Fun Casinos Games